Logiciel de gestion pour l'industrie du vin pour marchands, détaillants et importateurs.
Si vous envisagez de démarrer votre entreprise, d'améliorer vos opérations ou cherchez à réaliser vos plans de croissance, le Wine Hub vous offre une plateforme de gestion commerciale spécifique au secteur du vin.

Si vous gérez votre stock majoritairement sur un tableur excel, utilisez un logiciel de comptabilité pour gérer votre inventaire, ou un système générique ou obsolète qui ne correspond plus à l'entreprise que vous voulez être, il est temps de considérer le Wine Hub.
Le Wine Hub est un logiciel de gestion d'entreprise pour l'industrie du vin, qui inclut toutes les fonctions de base nécessaires pour un marchand, détaillant ou importateur de vin:
Gestion d'inventaire;

Traitement des ordres d'achat;

Traitement des ordres de vente;

Gestion clients et fournisseurs;

Expéditions et transferts; 

Intégration avec un logiciel de comptabilité.
Les options d'intégration comprennent le Hub Webshop (e-commerce) et une plateforme de gestion de stocks clients.
Commencez sans prendre de risque grâce à nos services de migration de données, d'outils de correspondance et d'imports de données qui connectent votre inventaire et les vins de vos clients à une mine d'information sur les vins. Sans frais de logiciel initiaux.
Parce que nous connaissons le monde du vin, adopter votre nouveau système est simple. Vous investissez dans une solution complète construite selon les besoins des marchands, détaillants et importateurs de vin. Le Wine Hub garantit l'efficacité opérationnelle aux procédés clé de votre entreprise et vous aide à réaliser vos plans de croissance et de développement.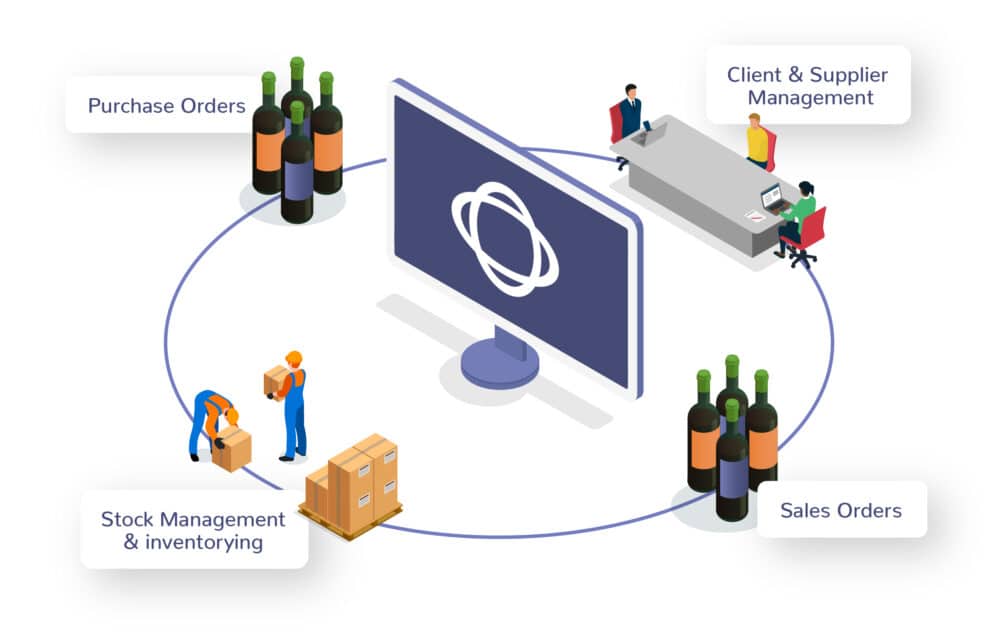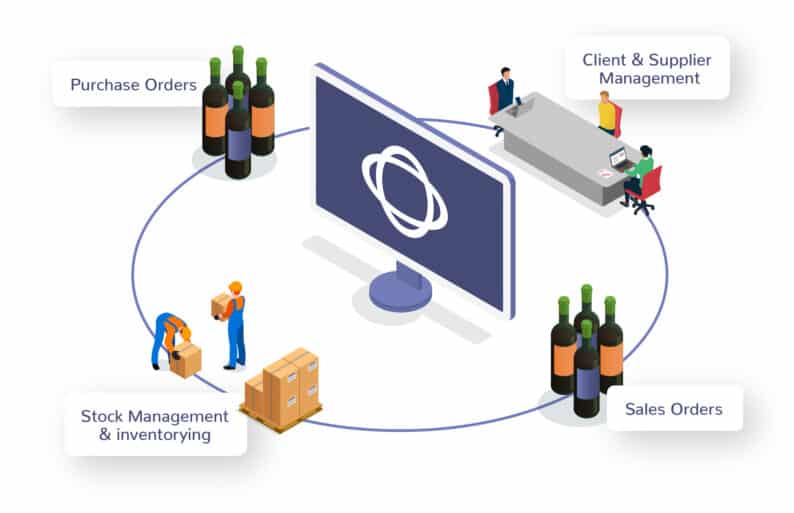 Nous sommes là pour vous aider à améliorer votre entreprise
Wine Owners showed they understood our market. We felt we could grow with the Hub.
Carlos De Haan, Founder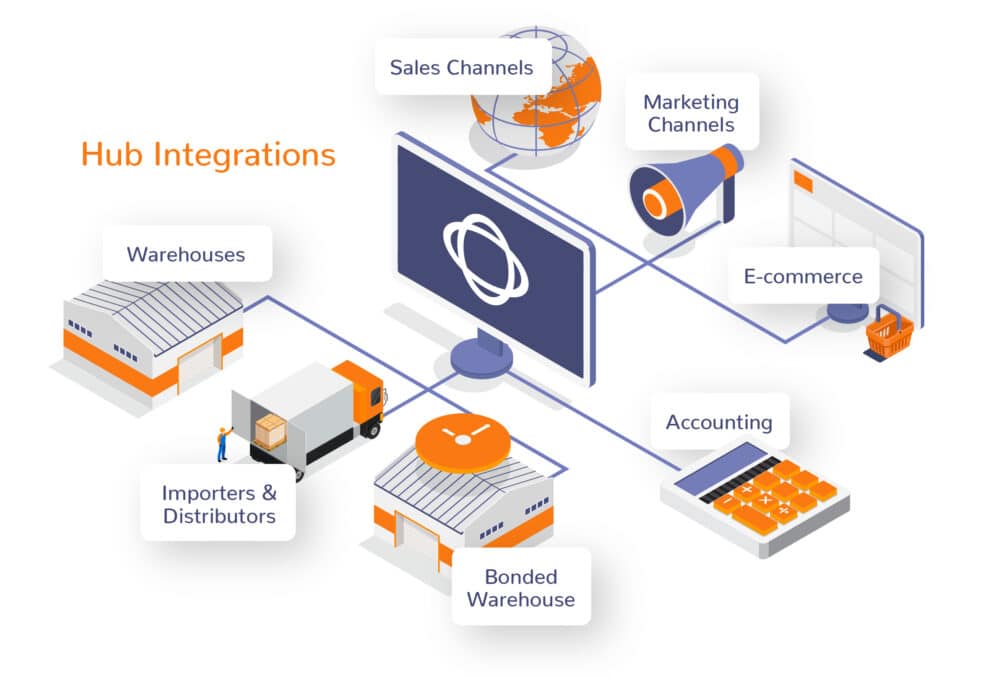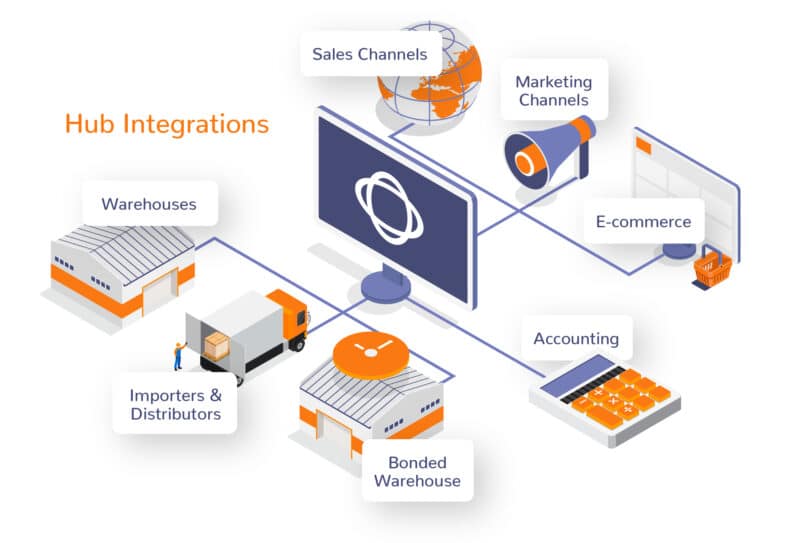 Le Wine Hub inclut toutes les fonctions essentielles requises par une entreprise viticole, ainsi que l'intégration avec les meilleurs progiciels comptable.
Pour une solution omnicanale abordable maîtrisée par le Hub, optez pour le Hub Webshop, une plateforme de commerce électronique native à faible coût et une intégration POS.
Le Hub maîtrise aussi bien les principes fondamentaux destinés à simplifier la gestion quotidienne de vos opérations commerciales, tout comme il l'est pour connecter une entreprise à ses canaux de distribution et ses sources d'approvisionnement.
Pour plus d'informations, téléchargez notre brochure [anglais]
Since going live with the Hub and the Hub Webshop, we've been picking up new clients pretty much every day; a couple of whom have since spent tens of thousands of pounds with us.
Eric Sabourin, Founder
Guarantissez votre succès
Plateforme d'exploitation commerciale à la pointe de la technologie conçue pour les exploitants de vin indépendants.

Aucune adaptation nécessaire pour le secteur, ce qui entraîne des coûts initiaux très faibles et une migration sans drame.
Basé sur un logiciel d'inventaire utilisé par les principales entreprises de négoce et de stockage de vin.
Notre technologie garantit une adoption réussie et soutient l'investissement dans l'avenir de votre entreprise.
Intégrations avec des packages de comptabilité leaders du marché et CRM.
Tirez parti des meilleures applications qui bénéficient de l'expertise du domaine et sont à l'épreuve du temps.
Gérez les vins stockés par vos clients avec des fonctionnalités telles que la gestion des réserves et de leur collection avec des options autogérées.
Connectez les clients à leurs vins stockés et renforcez l'engagement pour augmenter la fidélité et les dépenses
Conçu pour maîtriser tous les inventaires et types de stocks de vins et spiritueux, pour une vision unifiée à 360° de vos produits.
Optimisez vos ventes sur les marchés cible en déterminant exactement quel stock vendre et via quel canal.
Gestion intégrée des workflows pour systématiser les tâches quotidiennes et la communication avec les fournisseurs et les clients.
Maîtrisez la gestion des commandes et offrez une expérience client exceptionnelle.
Utilisez des données de référence préchargées, les prix du marché et des informations spécifiques au marché du vin.
Réduisez les efforts de maintenance de votre site e-commerce et laissez les informations sur les produits guider les décisions d'achat.
Établissez un lien avec les sources d'approvisionnement pour une approche connectée et flexible de l'approvisionnement et de l'achat de stock.
Améliorez considérablement votre trésorerie, alignez les achats sur la demande, approfondissez les relations avec vos fournisseurs
Find out more about our solutions by speaking to one of our experts