Liv-ex
The Wine Hub is fully integrated with the Liv-ex global marketplace which creates increased buying and selling opportunities for Liv-ex Gold and Black members.
As the leading global marketplace for the wine trade, Liv-ex is uniquely positioned to be both a sales channel, and a source of supply.
As such, it's a Wine Hub-integrated sales channel for a wine merchant or retailer's owned stocks, as well as being a significant source of supply that can be drawn from tens of millions of Pounds Sterling exchange offers for sale.
Bid and offer for sale
Liv-ex members can place bids to buy,  can offer their own stock for sale, and can offer their clients' consigned stock for sale on Liv-ex from within the Wine Hub's inventory management. 
A fully integrated view of the Liv-ex market and your own stock position helps to identify more opportunities to buy and sell than is otherwise possible.
Multichannel
Offering wines for sale through multiple sales channels used to carry a risk of double selling. The Hub changes all that, automatically updating stock positions everywhere as soon as a transaction takes place anywhere, for example on Liv-ex, your e-commerce, point of sale and any other sales channels.
A successful bid matched to your offer for sale will deplete or remove the same offer listed for sale in your e-commerce. It means you can list the same inventory on Liv-ex and your other customer-facing sales channels with confidence. 
Virtual stock
Wish you had more of your fastest moving stock so that when you sell out of a position you can carry on meeting client demand? Or, want to experiment with wine offers from regions you don't specialise in without running the risk of carrying stock that isn't selling through?
If so, it's time to consider Liv-ex as a source of virtual stock that enables you to top up, test the impact of select new additions, sell more to existing customers and reach a wider addressable market. 
Client brokerage/ consigning wines
Private clients sell more out of their collections when it's made easy, when their wines sell through quickly and when settlement is fast.
Integrating brokerage managed through the Wine Hub with Liv-ex improves those key measures, and reinforces your effectiveness as a brokerage sales channel.
Market prices, best bids, best offers, mid-prices, last trade prices.
Commodity Codes and ABV data.
Retrieval of all Liv-ex offers and bids.
Retrieval of My Position.
Push notifications from Liv-ex to the Wine Hub for changes.
Automated transaction processing.
Retrieve critic reviews matching inventory
We are here to help you understand how our solutions will enhance your business
View your position on the Liv-ex marketplace from within the Hub, alongside your own inventory and client stored wines.
Helps you to identify more opportunities to buy and sell profitably.
Integrate with available, guaranteed offers of wine that you can offer for sale through your Hub Webshop.
Provides certainty of stock and status with which to increase the size of your wine list, test categories, increase visitor traffic.
Set up a seamless integration with your Hub Webshop to offer carefully filtered Liv-ex offers for sale through your e-commerce.
Back-to-back transactions processing out of your e-commerce in real time ensures you are not left exposed.
Integrate with a wide range of APIs from Liv-ex. Market pricing, commodity codes and alcohol by value are examples of Liv-ex's expanding API set.
No need to research and add time-consuming information that's required for import documentation.
Use the Liv-ex Market Price with, or alongside Wine Owners' market level pricing.
Accurately price retained stocks or brokered wines, optimise margin or identify arbitrage opportunities.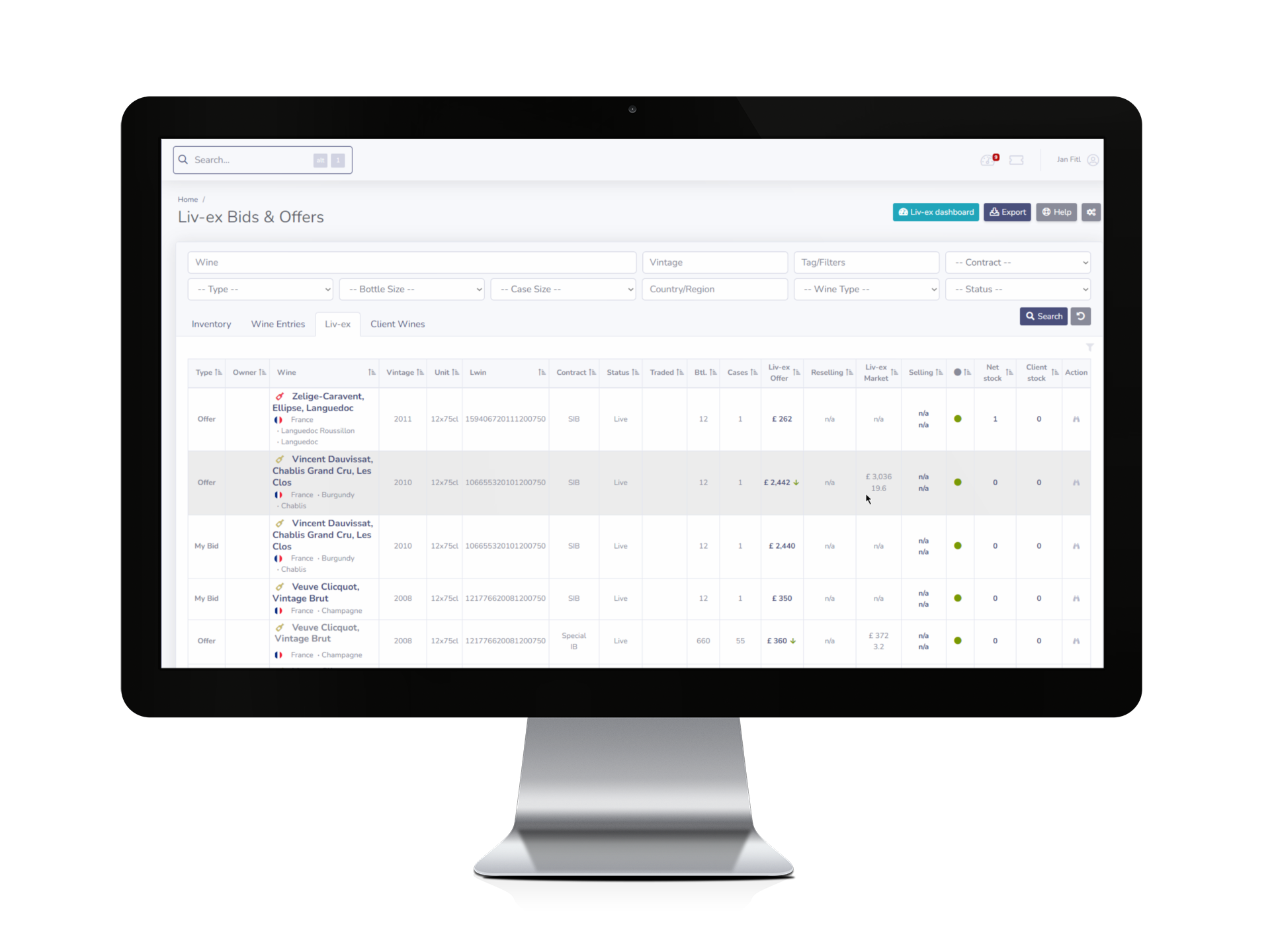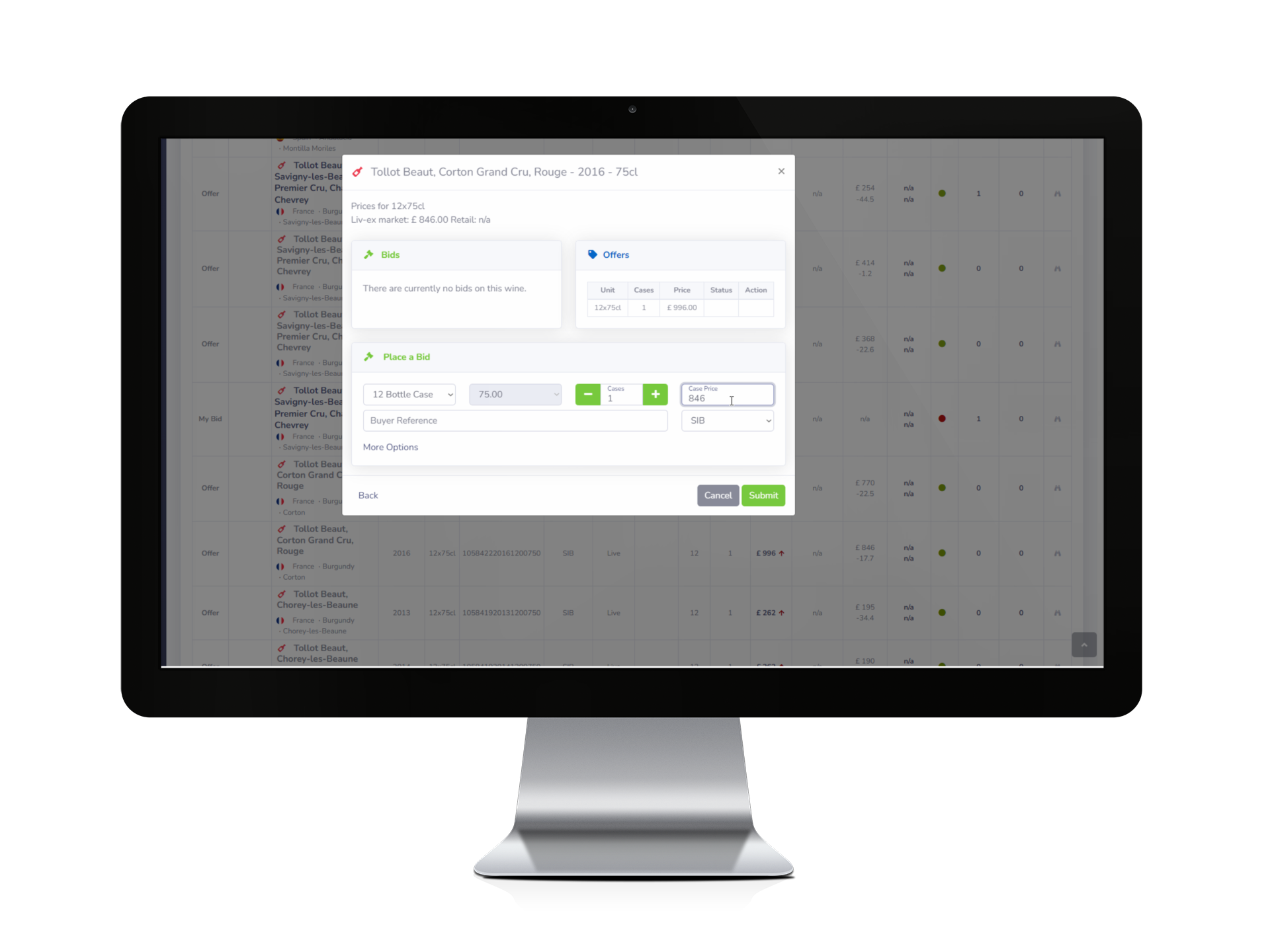 Working with the Hub helped us be able to integrate into a more concise and more streamlined system. It's helped us booking in stock and work with Liv-ex and it gave us an additional way, along with the website, of being able to sell to a wider and growing customer base.
Jamie Graham, Brunswick Fine Wines & Spirits
Find out more about our solutions by speaking to one of our experts