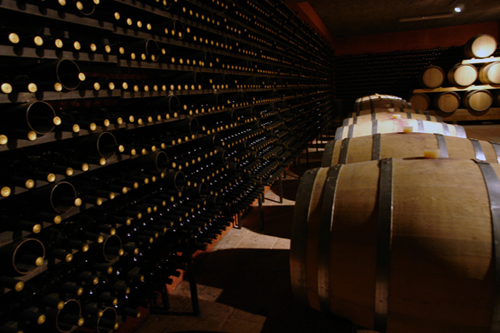 Wine Owners provides software solutions for more than a dozen fine wine warehouses worldwide. Octavian is the latest, and largest single-site, wine warehouse to embrace the technology with the launch of a new service called MyCellarportal. MyCellarportal includes a peer-to-peer exchange that operates as a 2-sided market where Octavian private clients can buy and sell Octavian-stored wines between each other. It's a significant, empowering step in a fast-digitising wine market.
This week Octavian, one of the largest fine wine storage operators in the world, has launched a major new service called MyCellarportal – a client-facing, state of the art, cloud-based solution for collection management.
MyCellarportal, based on the collection management software as a service (SaaS) platform created by Wine Owners, is set to transform the online experience of Octavian private clients.
Octavian is an exceptional heritage storage facility in a former WWII mine, handling and storing some of the world's most valuable wines. It also contains one of the largest inventories of fine wine anywhere in the world: Octavian cellars cover the same area as eleven full sized football pitches.
MyCellarportal is accessible to all Octavian private clients and provides secure access to their stored wines, along with intuitive collection management tools. MyCellar enables private collectors to view, evaluate and track their collections with an unrivalled user experience, which Wine Owners has refined over many years with input from collectors.
Octavian has built a reputation on providing perfect storage conditions for aging fine wine. With traceability of stored cases and a state-of-the-art photography studio, provenance is as good as it gets. Consequently, Octavian-stored wine has particular value in the secondary market, which private clients can now fully realize with the Wine Owners powered Octavian fine wine exchange that is integrated within MyCellar.
The Octavian fine wine exchange operates as a 2-sided market where sellers and buyers connect to trade wine exclusively stored at Octavian. It's another significant development in a fine wine market that is fast digitizing. By facilitating self-directed peer–to-peer trading, Octavian is recognizing the desire of collectors for ever more transparency, greater control, and an end-to-end service that makes it simple to get the most out of their hobby or investment.
Nick Martin, CEO Wine Owners commented:
"We are so very proud to have been selected by Octavian to transform their private client experience with market-leading online collection management and trading. The white labelled platform we have configured for the exacting demands of a major wine services brand further cements our position as a global specialist provider of fine wine software that delivers results and a rapid return on investment".
"The reduced risk of movement, full insurance and verified provenance provided by the Octavian exchange allows for quick and secure trading and settlement 100 feet underground!" It is as safe as it is discreet."