Hub Webshop
Ecommerce for the wine industry
The Hub Webshop completes an omni-channel solution that covers fully featured ecommerce, phone, email and in-store.
Get online visibility, reach a larger addressable market and increase your wine sales.
The Hub Webshop integrates with all the major payment processing and shipping services.
How it works
The Hub Webshop is fully integrated with the Wine Hub, to automatically display and update the products you choose to sell online along with content that informs buyers, and to automatically update the Wine Hub with sales and customer data.
The Wine Hub's inventory feeds your new, fully-branded ecommerce in real-time, 24/7, along with all your content that helps you to sell more – bottle shots, labels, condition images, reviews and scores, drinking dates, wine style, retailer tasting notes and recommendations.
The Hub Webshop opens up a number of point of sales (POS) options for in-store. Decide what to sell through which channel, and apply specific pricing by channel to optimise your margins.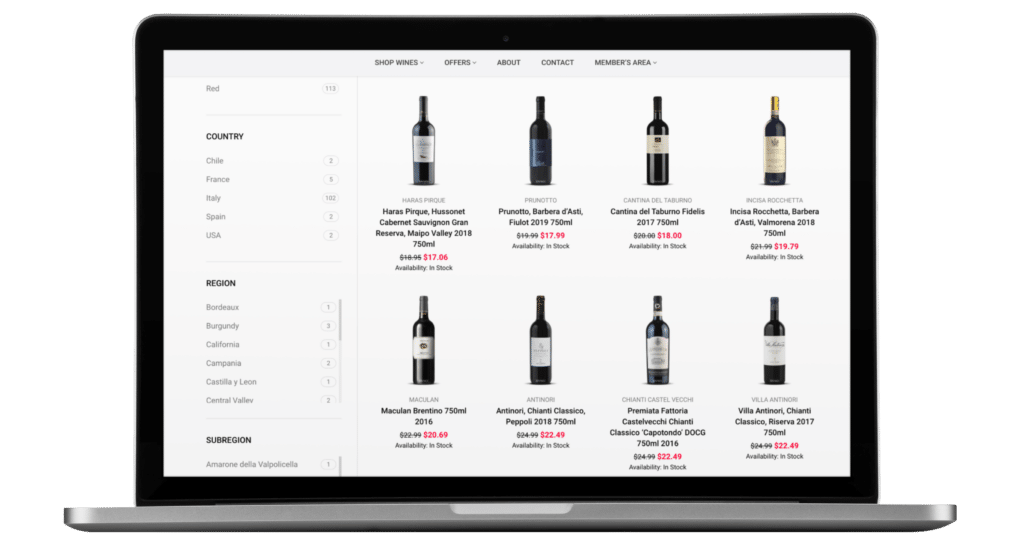 The practical ecommerce guide for wine businesses
Set yourself up for success
Fully integrated ecommerce, content- rich ecommerce site, no rekeying or additional data entry overhead.
Go digital without the expense of systems integration, and reduce ongoing administrative overheads.
Make use of preloaded referential data, market pricing, and related wine specific information.
Reduce the effort of maintaining an ecommerce channel, and let product information drive buying decisions.
Variable pricing capability per sales channel, and flexibility to assign specific products to each channel.
Optimise margin, by pricing to market demand and cost of channel, and by choosing what to sell and when.
Link with sources of supply for a connected and flexible approach to sourcing and purchasing stock.
Significantly improve cash flow, align purchasing with demand, deepen relationships with suppliers.
The Webshop and the Hub have a seamless two-way communication, so not only is my stock updated every five to 10 minutes, 24 hours a day, but if I sell stock on Liv-ex or another channel, it's automatically updated. In short, the risk of double selling is almost completely eliminated.

We've picked up a lot of new customers from website orders, and lots of people have commented how easy it is to use. I have to say it's been striking how many offline clients are purchasing online as well.
Tom Mann, Founder
We are here to help you understand how our solutions will enhance your business
When we started as a business, a lot of our sales were hand-to-hand selling over the telephone, over email and over WhatsApp, but e-commerce has become increasingly important, as it gives us a broader market. Being able to list a longer list of wines, where we have more depth, having e-commerce where people can buy directly from the site and be able to settle directly from the site has given us better market penetration.
Brunswick Fine Wines
Jamie Graham
Find out more about our solutions by speaking to one of our experts